Referee &amp Umpire Training
Tae Kwon Do Umpires Course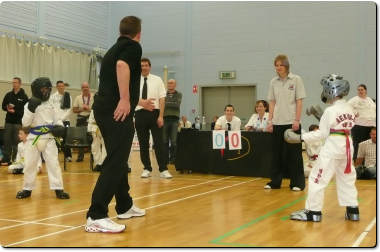 The PUMA Umpire course is for students Black Stripe and above who wish to help officiate at competitions.
The training course runs twice yearly and is led by Master Gayle 7th Degree. During the 3-4 hour training, students discuss the responsibilities of an Umpire and then take part in role plays taking on some of the different roles.
Following the course students are asked to help at least 4 PUMA competitions as a trainee Umpire and complete a log book. At each competition, students are assessed by the ring referee, performing one or more of the different roles.
Once the student has attended and helped at 4 competitions, feels confident in being an Umpire and has their log book signed off, they then have to complete a short essay explaining what they found the most challenging/rewarding about their experiences at competition.
Master Gayle collects the assignments and log books and will decide whether the student is ready to be a 'fully fledged Umpire'. Upon passing students receive an Umpire Certificate (which can be presented to them at a Black Belt Presentation Evening) and a PUMA Umpire T-Shirt so that they are recognised at a competition as an official.
Some of the roles of an Umpire Include:
Generally assisting the main ring Referee
Ensuring competitors are on the correct ring, ready to compete and have the correct equipment
Judging patterns
Acting as a Mirror Judge in point stop sparring
Acting as a Line Judge in point stop sparring
Acting as a Corner Judge in continuous sparring
Acting as a time keeper during sparring bouts
Recording results and assisting with the draw
Presenting medals
Tae Kwon Do Referees Course
The referee course takes a very similar structure to the PUMA Umpire course and usually runs alongside the Umpire training. Students can only take this course when they are a fully qualified Umpire and have attended a number of competitions fulfilling an Umpires role.
Like the Umpire course, students discuss the roles and responsibilities of a ring referee and then take part in role play, performing the referee role. During role play, referees are expected to deal with various scenarios that they may encounter at a competition, i.e. competitors in incorrect categories, spectator issues, excessive contact during sparring bouts etc.
On completion of the practical course, trainee referees are then asked to officiate at, at least 4 competitions, under the supervision of a qualified ref. Trainee referees complete a log book, which is signed off by the ring referee at each competition.
To finally qualify as a ring referee, trainees are observed by Master Gayle 7th Degree, who will ensure that the trainee ref has reached the appropriate standards and is confident to take control of a competition ring.
Responsibilities of a Referee include:
Overall in charge of the running of the ring
In charge of the Umpires on the ring and assigning specific jobs to the Umpires/Helpers
Ensuring competitors compete safely and within the rules of the tournament
Ensuring Competitors on the ring are in correct categories
Ensuring draw sheets are made correctly
Point Stop Sparring- main official who allocates points accordingly
Free Sparring- central referee that controls the sparring bout
Ring referees are responsible for competitors conduct during sparring bouts and can give verbal warnings, minus points, official warning and disqualify competitors in accordance with the rules
Awards trophies and medals
Reports any misconduct/problems to the tournament referee
The ring referees decision is always final