Paul Phillips - Assistant Instructor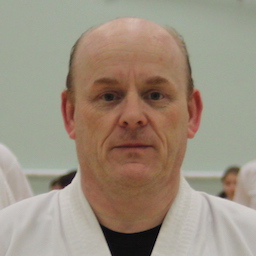 Having previously trained with the TAGB (1994-1995) under Mr Bradshaw; where injury and the birth of my second child in 1995 resulted in a break from my Taekwon-Do training although, with the love for the art, that was never going to be the end; I joined P.U.M.A. in 2007 where I still train today under Miss Deakin 4th Degree.
After such a long break I decided that the honourable thing to do was to return to the basics and start all over again from white belt; what followed was hard work and dedication, physically getting back in to shape; an ongoing battle at my age I'm afraid!
Under the examination of Mr Bradshaw 6th Degree and latterly Mr Salt 6th Degree I progressed through my gradings from white belt to red belt all with distinctions, I achieved a merit at black stripe under the examination of Master Gayle 7th Degree before going on to successfully grade for my black belt in October 2011 in front of Master Black 8th Degree, Master Gayle 7th Degree, Master Ogborne 7th Degree, Mr Tettmar 6th Degree and Mr Salt 6th Degree.
I have also achieved Level 6 in Bo Staff (Jang Bong) and look forward to progressing through the next levels in order to bring some local knowledge in to the club.
I love all aspects of Taekwon-Do from the technical patterns and principles of line work through to pre-arranged sparring techniques, pad work, free sparring, squad training and weapons; I have also represented Chesterfield Taekwon-Do at local and national level competing in sparring, patterns and bo staff patterns resulting in a number of Gold, Silver and Bronze medals.
The self defence aspect is also something that I love to bring to my training and I have recently under taken FAST Self Defence courses, Adult Basic and Basic Knife Defence against an armed attacker, and look forward to progressing through those courses too.
Whilst my training is ongoing; I am proud to have gained my P.U.M.A. Assistant Instructor accreditation and enjoy working with lower grade students, helping them to progress towards their gradings and competitions, helping them achieve their goals and to be part of their successes.
You will also find me on a regular basis helping with our Little PUMA's, a great introduction to Taekwon-Do for the younger, 4-7 year old, children.
Chesterfield Taekwon-Do is a warm and friendly martial arts club, a family club with, in addition to individual students, many parent and child students training side by side, a club that I am privileged to be a part of.
Update: Since this article was published Paul Phillips successfully achieved his 3rd Degree Black Belt in 2019 and Level 8 (Brown) in Jang-Bong in 2018.