New Century Tae Kwon-Do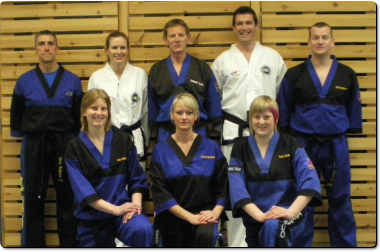 Our club is part of the New Century Tae Kwon-Do group of clubs. This brings many benefits including:
Monthly Area Squad Training with students from all clubs taking part
Area Competitions between clubs
Students can take part in extra training sessions at other NCTKD clubs
Senior Instructors oversee Gradings
New Century Tae Kwon-Do started it's first club in Leek in 1989 and now has clubs at the following locations:
Biddulph
Buxton
Cheadle
Chell
Chesterfield
Congleton
Fenton
Leek
South Normanton
Stone
Mr Dennis Salt 6th Degree Blackbelt (Leek, Buxton & Biddulph) is the Chief Instructor for New Century Tae Kwon-Do. He has been training for over 20 years and as well as being a fully qualified Instructor he is a Grading Examiner, Umpire and Referee. Mr Salt is the Disciplinary Chairman and Grading Examiner for PUMA.

Please visit the New Century Tae Kwon-Do website for more details.
Both New Century Tae Kwon-Do and Chesterfield Tae Kwon-Do are part of the PUMA (The Professional Unificiation of Martial Arts).
Being part of PUMA brings the benefits of a being part of a national organisation, including:
National Squad Training open to all students
Consistent Syllabus across PUMA clubs
National Competitions
Opporunties for the best students to represent PUMA in international competitions