Emma Deakin - Instructor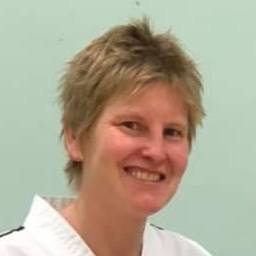 I began training in Taekwon-Do at the age of 13 and was immediately hooked! As a junior, my main passion was sparring; this said I enjoyed all aspects of the Art, from self defence to the more technical patterns and line work.
From the very beginning of my Taekwon Do career I was always keen to compete and remember winning my first British Championships as a Yellow Belt. This along with my instructor at the time, motivated me to continue and strive to be the best competitor I could be.
From winning that medal, my enthusiasm progressed... and eventually led me to compete in my first TAGB World Championships (Birmingham NEA, 1998) at the age of 18, having just been successful in achieving my Black belt.
I then went to university which I knew at the time was going to be a break in my Taekwon-Do training, but with the passion I had for the Art, this wasn't the end and shortly after graduating as a teacher I returned to my former instructor who gave me every encouragement to continue where I left off.
Following some hard work physically getting back into shape, I was selected to represent England as part of the PUMA team travelling to the ITF Championships in Cork, Ireland. Since this point I have been lucky enough to represent England in numerous championships around the world (as an individual competitor and England Ladies team member and captain), some of the more significant include;
ITF World Championships, Korea (2004) - Individual Sparring >72Kg Silver, Team Patterns Bronze, Team Sparring Bronze, Team Special Techniques Silver, Team Breaking Silver.
ITF World Championships, Birmingham (2007) - Individual Sparring <63Kg Bronze, Team Sparring Bronze, Team Special Techniques Bronze, Team Breaking Silver. (Ladies Team Captain)
ICTF Intercontinental Championships, Puerto Rico (2009) - Individual Sparring <63Kg Gold, Team Sparring Gold. (Ladies Team Captain)
Whilst my medals from the different championships mean so much to me. Possibly my most coveted achievement was being selected to travel with Master Gayle 7th Degree, Master Ogbourne 7th Degree and a small number of PUMA students to Ghana, in order to help promote Tae Kwon Do and Martial Arts.
During the visit we met with Chiefs of the region, visited a school, competed in a small tournament, appeared on National television and visited an Orphanage where we gave demonstrations and played with some of the youngsters. The trip was a real eye opener to me - we really do not know how lucky we are! Without a doubt, the experiences I had in Ghana will stay with me for the rest of my life for many different reasons! (See Ghana article for the full write up).
I began instructing at Chesterfield Tae Kwon Do as an assistant Instructor and was overwhelmed when my Instructor since the age of 13 offered me the Club. I couldn't have turned this great opportunity down and in September 2007 as a 3rd Degree Black belt, became Chesterfield Clubs main Instructor.
During this time I have been happy to see my students enjoy Taekwon-Do as much as I do and make progress within the Art. I have been proud to see some of my students achieve their Black belts (including Little PUMA students) and others achieve medals in local and national competitions.
Whilst personally I still enjoy the competitive side of the Art and intend to continue to compete for a little longer and hope to take my 4th Degree later this year, my main aspirations are to see my Students at Chesterfield Club reach their individual goals!
Update: Since this article was published Emma Deakin successfully achieved her 4th Degree Black Belt in 2010 and her 5th Degree in 2019.